City of Raymond
Welcome To Our Website!
The City of Raymond welcomes you to our website designed to help residents and visitors find information about our town. Raymond is a great place to live and work. We have an elementary school, two churches, two parks, 300 homes, and several businesses.
We are located just one mile off Interstate 380 and 7 miles east of Waterloo. The 2010 census reported our population at 788.
Please explore our website and let us know if there is any information you would like to see added. Thank you for visiting!
AGENDA
The City Council of Raymond, Iowa will meet in regular session on Monday, July 21, 2014 at 6:00 p.m. at City Hall.
Meeting called to order followed by roll call

Pledge of Allegiance

Revise or approve agenda

Approval of the Consent Agenda – All items listed under the consent agenda will be enacted by one motion. There will be no separate discussion of these items unless a request is made prior to the time Council votes on the motion
A. Approve July 7, 2014 regular meeting minutes.
B. Resolution 1166 authorizing payment of bills and transfers.
C. Accept and place on file the minutes and reports from the following Boards, Departments and Commissions (n/a=Not Available): Clerk/Treasurer Report (June 2014), Receipts (June 17, 2014 – July 21, 2014), Sheriff's Report (June 2014), Library (n/a).
Inquiries from the Audience

Reports
A. Fire Department Report
1. Membership changes
2. Approval of new members
3. Monthly meeting minutes
B. Building Permits/Inspections/Code Enforcement Report
C. Street Department Report
1. Review/Action quote for crack sealing of roads from Kluesner Construction, Inc.
D. Parks Department Report
1. Discussion of playground equipment.
E. Water & Sewer Report
F. Engineering Report
1. Discuss/Action on Master Services Agreement with MSA Professional Services
Old Business
A. Discussion of the Wastewater Facility Plan Revision.
B. Discussion of possible development of Rolling Hills III–Review Preliminary Plat for Rolling Hills III
C. Discussion of Low Water Pressure North side of Raymond in Royal Ridge Development
D. Discussion/Action of CDBG (Community Development Block Grant) LMI Survey.
New Business
A. Discuss/Action on employee wages
Communication

Adjournment
City Clerk
DUE TO CONSTRUCTION DELAYS, OUT OF THE CITY'S CONTROL, THE PLAYGROUND EQUIPMENT BEING INSTALLED AT H.E. PINT PARK IS NOT TO BE USED UNTIL CONSTRUCTION IS COMPLETE, SOMETIME THE WEEK OF JULY 15TH. WE APOLOGIZE FOR THE DELAY.
Hawkeye Valley Area Agency on Aging meals are offered on a contribution basis for people over 60 years of age. Actual cost for the meal is $6. People under the age of 60 must pay the actual cost. Meals are offered on a contribution basis to those ages 60 and over. Meals are offered at the United Method Church in Raymond at noon on Wednesdays. For more information, to reserve a place or order a meal, call the Senior Center at 319-272-2086.
July 9th: A. Roast Beef with Brown Gravy, Whipped Potatoes, Fiesta Veggies, Multi Grain Breadk, Frosted Cake & Margarine; B. No alternate.
July 16: A. Grilled Pork with Pepper Gravy, Baked Potatoes, Garden Veggies, Wheat Bread, Carnival Cookie, Sour Cream & Margarine; B. Honey Mustard Chicken Salad, Green Pea Salad, Carrifruit Salad, Wheat Bread & Carnival Cookie.
July 23: A. Mushroom Chicken, Whipped Potatoes, Spinach, Wheat Bread, Mandarin Oranges & Pineapple, & Margarine; B. Tuna Salad, Broccoli & Tomato Salad, Mediterranean Salad, Crackers & Mandarin Oranges & Pineapple.
July 30: A. Herbed Pork Loin w/Gravy, Red Roasted Potatoes, Capri Veggies, Wheat Bread, Tropical Fruit & Margarine; B. Honey Baked Chicken, Red Roasted Potatoes, Capri Veggies, Wheat Bread, Tropical Fruit & Margarine.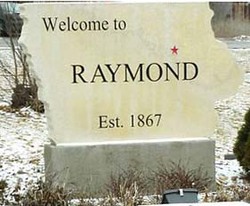 City Hall will be closed Tuesday, July 22nd through Thursday, July 24th. If you need to reach someone, please contact Mayor Johnson at 319-415-2816.
The City Council is looking for Raymond residents who are interested in serving on a committee to head up/serve on a Raymond Days Committee. If interested please contact City Hall at 232-6153.