City of Raymond
Welcome To Our Website!
The City of Raymond welcomes you to our website designed to help residents and visitors find information about our town. Raymond is a great place to live and work. We have an elementary school, two churches, two parks, 300 homes, and several businesses.
We are located just one mile off Interstate 380 and 7 miles east of Waterloo. The 2010 census reported our population at 788.
Please explore our website and let us know if there is any information you would like to see added. Thank you for visiting

AGENDA
The City Council of Raymond, Iowa will meet in regular session on July 24, 2017 at 6:00 p.m. at City Hall.
1. Meeting called to order followed by roll call
2. Pledge of Allegiance
3. Revise or approve agenda
4. Approval of the Consent Agenda – All items listed under the consent agenda will be enacted by one motion. There will be no separate discussion of these items unless a request is made prior to the time Council votes on the motion
A. Approve July 10, 2017 regular meeting minutes.
B. Resolution 1282 authorizing payment of bills and transfers.
C. Accept and place on file the minutes and reports from the following Boards, Departments and Commissions (N/A=Not Available): Clerk/Treasurer Report (June 2017), Receipts (June 20, 2017 – July 24, 2017), Sheriff's Report (June 2017), Library (N/A).
5. Inquiries from the Audience
6. Reports
A. Fire Department Report
1. Membership changes
2. Approval of new members
3. Monthly meeting minutes
B. Building Permits/Inspections/Code Enforcement Report
C. Street Department Report​
1. Discuss/Action on Line Striping Bids
D. Parks Department Report
E. Water & Sewer Report
1. Discuss/Action on 2-tier sewer billing system for compliant & non-compliant drainage of sump pump/floor drains/eaves spouts
3. Discuss charges for water meter replacements.
7. Engineering Report
1. Discuss/Action to approve Resolution 1283 – A Resolution Authorizing the Mayor and City Clerk to sign the water main easement agreements for the Bigler and Turkey Foot Long Rifle properties and provide compensation as defined in the respective agreements.
8. Old Business
A. Discussion of the Wastewater Facility Plan Revision
B. Discussion on Raymond Days 2017
C. Discuss/Action on load embargo roads in city limits.
D. Discuss/Action on sale of fireworks and amending Ordinance 45 Section 23.
E. Discuss/Action on 28E Agreement with Black Hawk County Engineer – Catherine Nicholas to be present
9. New Business
A. Discuss/Action on rescheduling Council meetings in September or cancelling the first Council Meeting due to falling on Labor Day Holiday.
B. Discuss/Action on obtaining larger recycle containers at City Hall.
10. Communications
11. Adjournment
City Clerk
Link to the Alert Iowa Website. You can sign up for Alert Iowa warnings: http://entry.inspironlogistics.com/blackhawk_ia/wens.cfm
Hawkeye Valley Area Agency on Aging meals are offered on a contribution basis for people over 60 years of age. Actual cost for the meal is $7.26. People under the age of 60 must pay the actual cost. Meals are offered on a contribution basis to those ages 60 and over. Meals are offered at the United Method Church in Raymond at noon on Wednesdays. For more information, to reserve a place or order a meal, call the Senior Center at 319-272-2086.
July 12th - Birthday Meal: A: Roast Beef w/Gravy, Mashed Potatoes, Green Peas, Dinner Roll, Margarine, Frosted Birthday Cake. B: No Alternative
July 19th: A: Meatloaf w/Gravy, Country Potatoes, Broccoli, Fresh Seasonal Fruit, Chocolate Milk. B: Turkey Garden Cranberry Sauce, Pasta Salad, Crackers, Fresh Seasonal Fruit, Chocolate Milk, Salad Dressing.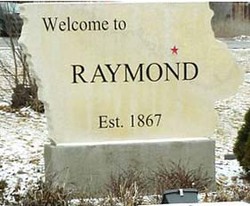 Raymond Days Committe Meeting will be held Sunday, June 27th at 6 PM at Tipsy'z Bar & Grill. All are welcome to attend!