City of Raymond
Welcome To Our Website!
The City of Raymond welcomes you to our website designed to help residents and visitors find information about our town. Raymond is a great place to live and work. We have an elementary school, two churches, two parks, 300 homes, and several businesses.
We are located just one mile off Interstate 380 and 7 miles east of Waterloo. The 2010 census reported our population at 788.
Please explore our website and let us know if there is any information you would like to see added. Thank you for visiting!
Capital Improvement Plan: Click on the link below to take the survey
https://www.surveymonkey.com/r/raymondCIPsurvey
The City Council of Raymond met in a regular session on April 18, 2016 at 6:05 p.m. at Raymond City Hall with Mayor Pro Tem Vick presiding. Vick, Pint, Morgan, Smith, McGowan present. Mayor Johnson absent. Mayor Pro Tem Vick led in the Pledge of Allegiance.
Smith/Pint motion to approve the agenda moving items 7F & 7G right after Inquiries from the Audience. Ayes-Smith, Pint, Morgan, McGowan, Vick. Motion carried 5-0. Pint/Smith motion to approve the consent agenda: Minutes of April 4, 2016 regular meeting; Resolution 1238 authorizing payment of bills and transfers; Clerk/Treasurer Report (February 2016 & March 2016), Receipts (March 22, 2016-April 18, 2016), Sheriff's Report (March 2016), Library Report (N/A). Ayes–Pint, Smith, Vick, McGowan, Morgan. Motion carried 5-0.
April Disbursements: Total $34,836.13; General Fund $23,476.69; Road Use $3,652.48; Sewer $7,589.13; Water $117.83; Debt Service $0.00; Cap Improv $0.00; SR-LOST $0.00; SR-TIF $0.00
March Receipts: Total $42,111.15; General Fund $7,763.57; Road Use $8,395.89; Special Rev.(LOST) $ ;6,694.47
SR -TIF/UR $4,575.36; Debt Service $65.39; Water Utility $72.95; Sewer Utility $14,543.27; Cap Improv $0.25
Century Link $ 155.12 Waterloo Courier $ 231.54
Payroll $2,841.75 Advanced Systems $ 585.30
Black Hawk County Engineer $1,000.00 Black Hawk County Elections $1,449.21
Black Hawk County Sheriff $5,672.03 Best Services, Inc. $ 239.76
Card Services $ 187.85 City of Elk Run Heights $4,500.00
Bob Dieter Associates, PLC $2,500.00 IPERS $ 487.73
Kluesner Construction $1,551.50 MSA Professional Services $6,824.40
Nancy Miebach $ 25.00 On-Site Info Destruction $ 45.00
Roberts,Stevens,Prendergast $ 475.00 State of Iowa $ 268.00
Waste Management $3,251.91 Waterloo Water Works $ 489.52
MidAmerican Energy $1,220.44 R&S Automotive Repair $ 835.07
Inquiries from the Audience – None.
Discuss/Action on CD's coming Due –City Treasurer Paulsen stated the CD's that came due in March and April were transferred into the Farmers State Bank Checking Account. Paulsen stated Larry Burger with Speer Financial informed the City last year that the City should not have money invested longer than a 12 month period. Paulsen suggested investing a total of $600K, investing $100K every two months. Whatever Council decides, the City should forward ideas onto Larry for his input. Gene Pint was present to talk more on Franklin High Yield Tax-Free Income Fund. It's a mutual fund; if interest rates sky rocket, rates can go down but it kicks out a dividend check every month so if the price per shares of the stocks goes down, it will kick out a dividend which actually purchases more stock at a lower price so when it does bounce back, your income will increase. Pint proposes using Class C Shares which are no load, there is a 1% deferred sales charge. This sales charge disappears after 13 months, at that time the City could take their money and do what they want with it. If money is taken out before the 13 months, the city would be charged 1% on the amount taken out. Distribution and service (12b-1) fees are the fees charged to invest the money, to manage it, to buy and sell the bonds. For Class C shares, the fee is 1.2%, so you pay a little bit more for internal costs. The rates Gene quoted at the April 4th meeting are net, that's after expenses. Those annual rates again were: 1yr. 1.57%; 3yr. 3.63%; 5yr. 7.65%; 10yr. 4.99%; life of the fund since 1993 is 5.67%. Pint also pointed out in a recent letter to the editor, April 17th, in the Courier, it stated that he was a councilman and there would be a conflict of interest for him to sell investments to the City. Mayor Pro Tem Vick stated Gene Pint is not a Councilman, has not been a Councilman for many years, and that City Attorney Stevens stated there is no conflict of interest if the City decides proceed with investments through Gene Pint. Councilmember McGowan asked if the shares would be FDIC insured. Pint stated he did not know. McGowan stated that would be a good question for Speer Financial. McGowan/Smith motion to investment $600K on a lateral investment but get advice from Larry Burger with Speer Financial and then bring before Council for approval. Ayes-McGowan, Smith, Pint, Morgan, Vick. Motion carried 5-0.
Fire Department-Fire Chief Dolf was not present but did inform the City Clerk that Truck 902 is leaking water, they've ordered a seal rebuild kit and will then be installing that, depending on the results of that will determine the next step. It's possible they will have to have the pump disassembled and the drive shaft services. They do not know the extent of the cost until they know how far they have to go.
Building Permits/Inspections/Code Enforcement Report-Couple of small projects going on. Had a couple of issues last month, things were taken care of. Please remind citizens not to blow grass onto the street and only recreation fires are allowed; no yard waste burning. Code Enforcement would still like Council to consider amending the golf cart ordinance to require either a rear mirror or left side on the golf carts.
Street Dept. Report-Prairie Road Builders submitted a bid for $4,494.00 to repair the 24 spots on Lafayette Rd. Pint/Smith motion to accept the bid from Prairie Road Builders in the amount of $4,494.00. Ayes-Pint, Smith, Morgan, McGowan, Vick. Motion carried 5-0. Public Works did patch some of the spots and those held up. City Clerk will fax over the signed estimated to Prairie tomorrow to get the work schedule soon. Public Works did mention the north side of Dubuque Rd. where Whole Excavation replaced the culvert last year is washing out and needs to be fixed soon. Public Works took all the stumps out of Donna Higuera's ditch along Dubuque Rd. (Mayor Johnson entered at 6:45 p.m.)
Parks Dept. Report-Quotes are coming to install the fitness equipment and swing set. Soap dispensers were purchased for the restrooms. There is a tree that was planted last year around the south side of the playground equipment that has no blooms on it. City Clerk will check with Meyers Nursery and see if it's dead. City Clerk to get bids for spraying the parks for weeds. Councilperson Smith stated woodchips are needs around the playground equipment at H.E. Pint Park. Mayor Johnson asked if Councilmember Morgan contacted Musco Lighting yet. He has not but City Clerk has been in contact with them and is waiting to hear back from them.
Water & Sewer Report –City Engineer Huck was not present but did submit a report. Huck stated there is a State Revolving Fund (SRF) loan does provide a 3 year zero interest Planning and Design (P&D) loan that allows a utility improvement project such as water system improvements to move to the design and property acquisition phase with no immediate cash outlay by the City. Next quarterly deadline is in early June.
Engineering Report-City Engineer attended the April 14th MPO meeting. MSA prepared an application for the reconstruction of Lafayette Rd. with an estimated project cost of $4.2mil and a request of the maximum 80% at $3.36mil. With new projects being submitted from Waterloo, County, Raymond, Hudson & Cedar Falls as well as adjustments to previously programmed project estimates, the work session with negative funding appropriations of -$8.4mil for the 5-year program. Annual appropriates are expected to be limited to $3.104mil for the foreseeable future so future requests should be adjusted as such or phased to better fit the program. Due to the lack of funding available, the Lafayette Rd. project was not selected to be funded by the Committee. City Clerk stated there is a Regions 1 & 6 Municipal Separate Storm Sewer Program Meeting (MS-4) on May 5th from 9am-12pm at Coralville City Hall asking that at least one representative from the city attend and City Engineer Huck stated he would be attending on the City's behalf.
Discussion of the Wastewater Facility Plan Revision –Nothing new to report. Mayor Johnson stated Bob Dieter submitted a bid and reduced his billing by 50%. The bill was $2500 for each Raymond and Elk Run Heights.
Discuss/Action on Williams Ag easement agreement-MSA Surveyors will be in Raymond the week of April 25th to perform the boundary survey necessary to complete the acquisition plat. Final Plat should be completed on or before May 9th for City Attorney & Councils review.
Discuss/Action on Royal Ridge Detention Pond-In a report provided by City Engineer Huck: The basin was inspected on March 21st and identified one primary deficiency in the form of a swale that has been improperly graded to direct runoff that bypasses the last intake on Winsor Ridge Drive around the basin. The basin was evaluated for its ability to manage storm water to the current City Subdivision Ordinance and was found that the volume of the basin would need to be increased approximately four times to effectively manage full build-out of Phase 1 and 2. The existing basin does not appear to be located on an independently platted lot, therefore City Engineer Huck does not believe this basin could be fully dedicated to the City without a Final Plat being prepared, and then approval by Planning and Zoning and the City Council. City Attorney Prendergast stated the City will not accept the basin as a gift, because it's not in compliance with the development agreement or the City Engineer's report. Gary Schmitz, Royal Ridge developer, was present. Schmitz stated his engineer is going to be forwarding documentation stating the current detention pond is adequate to handle the current housing in Royal Ridge subdivision.
Discuss/Action on Planning & Zoning decision on size of Accessory Buildings-Nothing new to report until the Capital Improvement Plan is finalized and input has been received from the citizens.
Discuss/Action on Raymond Capital Improvement Plan FY 2016-2016-City Clerk will contact Chris with MSA Prof. Services to see if the survey is ready to go.
New Business-Nothing new to report.
Communications-Black Hawk County Engineer Pre-Construction Meeting for resurfacing V49, Thursday, April 21st at 11 AM Room 211 of Black Hawk County Court House (Engineering Office). Farmers State Bank building sold last week for $55,000.
Smith/Morgan motion to adjourn at 7:19 p.m. Ayes-Smith, Pint, Vick, Morgan, McGowan. Motion carried 5-0.
Nancy Miebach, City Clerk
Here is the link to the Alert Iowa Website. You can sign up for Alert Iowa warnings: http://entry.inspironlogistics.com/blackhawk_ia/wens.cfm
Farmers' Market Checks - June 1st 11:15am to 12:15pm at Raymond Methodist Church 6903 Lafayette Rd. Farmers Market Guidelines: Must be 60 years of age or older at the time of application (born before 1956), live in area of Area Agency on Aging, yearly income of less than $21,978 for a single person, or yearly income of less than $29,637 for a married couple. Northeast Iowa Area Agency on Aging is an Equal Opportunity Provider.
Hawkeye Valley Area Agency on Aging meals are offered on a contribution basis for people over 60 years of age. Actual cost for the meal is $7.26. People under the age of 60 must pay the actual cost. Meals are offered on a contribution basis to those ages 60 and over. Meals are offered at the United Method Church in Raymond at noon on Wednesdays. For more information, to reserve a place or order a meal, call the Senior Center at 319-272-2086.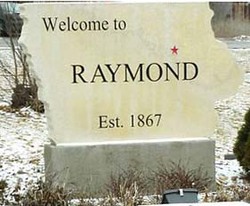 The City Council is looking for Raymond residents who are interested in serving on a committee to head up/serve on a Raymond Days Committee. If interested please contact City Hall at 232-6153.