City of Raymond
Welcome To Our Website!
The City of Raymond welcomes you to our website designed to help residents and visitors find information about our town. Raymond is a great place to live and work. We have an elementary school, two churches, two parks, 300 homes, and several businesses.
We are located just one mile off Interstate 380 and 7 miles east of Waterloo. The 2010 census reported our population at 788.
Please explore our website and let us know if there is any information you would like to see added. Thank you for visiting!
Below is the link to the Alert Iowa Website. You can sign up for Alert Iowa warnings.
http://entry.inspironlogistics.com/blackhawk_ia/wens.cfm
The City Council of Raymond met in a regular session on March 16, 2015 at 6:00 p.m. at Raymond City Hall with Mayor Johnson presiding. Vick, Morgan, Pint present. Smith, McGowan absent. Mayor Johnson led in the Pledge of Allegiance.
Vick/Morgan motion to approve the agenda. Ayes-Pint, Vick, Morgan. Motion carried 3-0. Morgan/Pint motion to approve the consent agenda: A) Minutes of March 2, 2015 regular meeting; B) Resolution 1195 authorizing payment of bills and transfers; C) Clerk/Treasurer Report (February 2015, Receipts (February 17, 2015-March 16, 2015), Sheriff's Report (February 2015), Library Report (n/a). Ayes–Morgan, Vick, Pint. Motion carried 3-0.
March Disbursements: Total $23,558.48; General Fund $15,575.32; Road Use $2,713.75; Sewer $5,269.41; Water $0.00; Debt Service $0.00; Cap Improv $0.00; SR-LOST $0.00; SR-TIF $0.00
February Receipts: Total $35,596.04; General Fund $4,673.91; Road Use $6,925.25; Special Rev. (LOST) $6,940.00; SR -TIF/UR) $50.90; Debt Service $40.07; Water Utility $26.14; Sewer Utility $15,940.37; Cap Improv $.30
CenturyLink $ 158.00 Waterloo Courier $ 222.31
Payroll $1,021.36 BHC Sheriff's Dept. $5,588.21
Card Services $ 384.34 City of Elk Run Heights $4,800.00
Danko $ 464.79 Harris Cleaning $ 130.83
Nancy Miebach $ 25.00 IPERS $ 389.11
Jane Morgan $ 100.00 Storey Kenworthy/Matt Parrott $ 51.70
MSA Prof. Services $1,195.50 Roberts,Stevens,Prendergast,Guthrie $1,125.00
Waste Management $3,350.08 Waterloo Water Works $ 303.50
Whole Excavation $2,713.75 Joe Jones Jr. $ 300.00
UIEMSLRC (CPR Classes) $ 35.00 Office of Auditor of State $1,200.00
Inquiries from the Audience-None
Fire Department – No new members or membership changes. Fish Fry is schedule for March 27th from 4:30-7:30p.m. at Reuter Hall; Easter Egg Hunt at H.E. Pint Park is March 28th at 12:00 p.m. Poker Run is schedule August 22nd.
Building Permits/Inspections/Code Enforcement – Nothing new to report on Building permits.
Street Department Report-City Clerk will call PinPoint Striping to get a quote on street sweeping and get it scheduled. Council needs to look at Greenbush to see where the concrete is separating in the curb area; also 8th & Central has developed a dip where culvert work was completed last fall and will need to be fixed.
Parks Department Report –Council discussed purchasing a swing set for Scott Thome Park and fitness equipment for the walking path. City Clerk to contact BYO Playground to see what the cost would be to complete both projects at the same time and how much mulch a semi load holds. Council would like to know the following regarding the fitness equipment: maintenance, what the equipment is made out of, resistance, set-up and anchoring of equipment, references of other cities that have purchased and installed fitness equipment. Pint/Vick motion to table further discuss on the swing set and fitness equipment until the April 6th Council meeting. Ayes-Pint, Vick, Morgan. Motion carried 3-0.
Water & Sewer Report-Vick/Pint motion to pay the invoices submitted by Joe Jones Jr. for cleaning of lift station baskets from February 17th through March 16th in the amount of $300.00. Ayes-Vick, Pint, Morgan. Motion carried 3-0. This invoice was submitted after the bills were approved earlier in the meeting.
Discussion of the Wastewater Facility Plan Revision-Mayor Johnson stated the person Elk Run Heights has hired a Waste Water Treatment Operator is a Grade 4 water and Grade 2 Waste Water with 6 months to get his Grade 3 Waste Water license. Mayor Johnson also stated Waterloo will be raising their sewer rates 15%. The monthly sewer bill for a property using 800 cubic feet of water each month will go from $22.40 to $25.75. A copy of the newspaper article was given to Council for their review. Council discussed lagoon systems. MSA Professional Services installed a lagoon system for the city of Lamont. City Clerk to find out from City Engineer what the cost and size of the lagoon system was for Lamont.

Discussion of Low Water pressure North side of Raymond in Royal Ridge Development-City Engineer was not present but provided a project update. In the report he stated the State Revolving Fund (SRF) provides a 3 year zero interest Planning and Design (P&D) loan that allows a utility improvement project such as this to move to the design and property acquisition phase with no immediate cash outlay by the City. This loan is awarded quarterly.
City Attorney Guthrie stated he would like Council to consider approving the 657A Property Policy changing the ranking of bids to be completed by Code Enforcement Office and one Council member. If the Raymond Code Enforcement Office is bidding, Council will designate another person. City Attorney would also like Steve, Code Enforcement, create a rehabilitation checklist for Council review at the April 6th Council meeting. Pint/Vick motion to table further discussion on properties at 6410 Lafayette and 200 Landmark until the next Council meeting on April 6th. Ayes-Pint, Vick, Morgan. Motion carried 3-0.
Discuss/Action to designate one Council person for representative to the NE Corridor Study Selection Committee-Councilperson Pint stated she will serve as Raymond's representative and Councilperson Vick stated he would be a back-up to Pint in the event she was unable to attend a meeting.
Communications –Mayor Johnson stated he spoke with John McMahon regarding installation of a culvert under his driveway and Mayor Johnson stated that the City will go on the advice of the City Engineer on the placement of culvert.
Vick/Morgan motion to adjourn at 7:00 p.m. Ayes-Vick, Morgan, Pint. Motion carried 3-0.
Nancy Miebach, City Clerk
March is Colorectal Cancer Awareness Month
80% by 2018
Shared Goal: Reaching 80% Screened for Colorectal Cancer by 2018
Background: Colorectal cancer is a major public health problem. It is the second leading cause of cancer death, and a cause of considerable suffering among more than 140,000 adults diagnosed with colorectal cancer each year. However, colorectal cancer can be detected early at a curable stage, and it can be prevented through the detection and removal of precancerous polyps.
Commitment: Our organizations stand united in the belief that we can eliminate colorectal cancer as a major public health problem. We have screening technologies that work, the national capacity to apply these technologies, and effective local models for delivering the continuum of care in a more organized fashion. Equal access to care is everyone's responsibility. We share a commitment to eliminating disparities in access to care. As such, our organizations will work to empower communities, patients, providers, community health centers and health systems to embrace these models and develop the partnerships needed to deliver coordinated, quality colorectal cancer screening and follow up care that engages the patient and empowers them to complete needed care from screening through treatment and long-term follow-up.
Hawkeye Valley Area Agency on Aging meals are offered on a contribution basis for people over 60 years of age. Actual cost for the meal is $7.26. People under the age of 60 must pay the actual cost. Meals are offered on a contribution basis to those ages 60 and over. Meals are offered at the United Method Church in Raymond at noon on Wednesdays. For more information, to reserve a place or order a meal, call the Senior Center at 319-272-2086.
March 25th: A: Oven Fried Chicken, Baked Potato, Winter Vegetable Blend, Multi Grain Bred, Tropical Fruit, and Margaine. B: Mixed Bean Soup, Sliced Roast Beef, Swiss Cheese, Multi Grain Bread, Green Pea Salad, Tropical Fruit, & Mayonnaise.
April 1st: A: Glazed Ham, Hubbard Squash, Club Spinach, Multi Grain Bread, Fresh Fruit, and Margaine. B: Herb Crusted Pork, Hubbard Squash, Club Spinach, Multi Grain Bread, Fresh Fruit, and Margarine.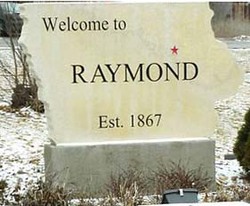 Raymond Fire Rescue Fish Fry - Friday, March 27th 4:30-7:30 p.m. $8 for adults, $4 for children 4-12, children under 3 free. Reuter Hall in Raymond.
Raymond Fire Rescue Easter Egg Hunt Saturday, March 28th at Noon at H.E. Pint Park.
The City Council is looking for Raymond residents who are interested in serving on a committee to head up/serve on a Raymond Days Committee. If interested please contact City Hall at 232-6153.