City of Raymond
Welcome To Our Website!
The City of Raymond welcomes you to our website designed to help residents and visitors find information about our town. Raymond is a great place to live and work. We have an elementary school, two churches, two parks, 300 homes, and several businesses.
We are located just one mile off Interstate 380 and 7 miles east of Waterloo. The 2010 census reported our population at 788.
Please explore our website and let us know if there is any information you would like to see added. Thank you for visiting!
AGENDA
The City Council of Raymond, Iowa will meet in regular session on November 3, 2014 at 6:00 p.m. at City Hall.
Meeting called to order followed by roll call

Pledge of Allegiance

Revise or approve agenda

Approval of the Consent Agenda – All items listed under the consent agenda will be enacted by one motion. There will be no separate discussion of these items unless a request is made prior to the time Council votes on the motion
A. Approve October 20, 2014 regular meeting.
B. Resolution 1179 authorizing payment of bills and transfers.
Inquiries from the Audience

Old Business
A. Discussion of the Wastewater Facility Plan Revision.
B. Discussion of Low Water Pressure North side of Raymond in Royal Ridge Development
C. Discuss/Action of CDBG (Community Development Block Grant) LMI Survey.
D. Discuss/Action on Notice of Termination of the 28E Agreement for Plowing Snow in Raymond from the Black Hawk County Engineer.
E. Review 2014 Multi-Jurisdictional Hazard Mitigation Plant for Black Hawk County, Iowa.
1. Open Public Hearing for adoption of the 2014 Multi-Jurisdictional Hazard Mitigation
Plan for Black Hawk County, Iowa.
2. Close Public Hearing
3. Resolution 1180 – A RESOLUTION OF THE CITY COUNTIL OF RAYMOND, IOWA ADOPTING A MULTI-JURISIDCTIONAL HAZARD MITIGATION PLAN FOR BLACK HAWK COUNTY.
New Business
1. Discuss/action on a request by Joe Jones Jr. for a temporary weather shield for the lift stations.
Communication

Adjournment
City Clerk
NOTICE OF PUBLIC HEARING
TO WHOM IT MAY CONCERN: Notice is hereby given that on the 3rd day of November, 2014 at 6:00 PM at the Raymond City Hall, in Raymond, Iowa, a public hearing will be held to accept input regarding the Black Hawk County Multi-Jurisdictional Hazard Mitigation Plan recently being undertaken by the City.
Anyone interested may appear at the above stated time and place on November 3, 2014 for the public hearing and be heard or may file written comments in person or mail to the City Clerk, City Hall, 101 E. 1st St., P.O. Box 156, Raymond, Iowa 50667 to be received in the City Clerk's office before 6:00 PM on the date set for said hearing. There is a copy of the plan currently available for review at City Hall.
Nancy Miebach, City Clerk
RAYMOND CITIZENS - The Dewar Community Center, located at 1731 N. Raymond Road, is the polling place for Poyner Township Precinct 1 and East Waterloo Township. This replaces Raymond City Hall.
Hawkeye Valley Area Agency on Aging meals are offered on a contribution basis for people over 60 years of age. Actual cost for the meal is $7.26. People under the age of 60 must pay the actual cost. Meals are offered on a contribution basis to those ages 60 and over. Meals are offered at the United Method Church in Raymond at noon on Wednesdays. For more information, to reserve a place or order a meal, call the Senior Center at 319-272-2086.
October 29th: A: Beef Stroganoff, Sliced Carrots, Green Peas, Wheat Bread, Citrus Fruit Cup, & Margarine. B: Chef Salad, Orange Juice, Wheat Bread, Citrus Fruit Cup, Margarine, & Salad Dressing.
November 5th: A: Oven Fried Chicken, Whipped O'Brien Ptoatoes, Spinach, Multi Grain Bread, Fresh Fruit, Chocolate Milk, and Margarine. B: Apple Glazed Pork Patty, Whipped O'Brien Potatoes, Spinach, Multi Grain Bread, Fresh Fruit, Chocolate Milk, and Margarine.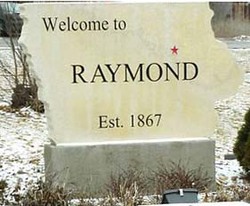 TRICK-OR-TREAT WILL BE FRIDAY, OCTOBER 31ST FROM 6PM TO 8 PM
TRUNK OR TREAT AT RAYMOND UNITED METHODIST CHURCH, FRIDAY, OCT. 31ST FROM 5:30PM TO 7:30PM
The City Council is looking for Raymond residents who are interested in serving on a committee to head up/serve on a Raymond Days Committee. If interested please contact City Hall at 232-6153.