City of Raymond
Welcome To Our Website!
The City of Raymond welcomes you to our website designed to help residents and visitors find information about our town. Raymond is a great place to live and work. We have an elementary school, two churches, two parks, 300 homes, and several businesses.
We are located just one mile off Interstate 380 and 7 miles east of Waterloo. The 2010 census reported our population at 788.
Please explore our website and let us know if there is any information you would like to see added. Thank you for visiting!
Below is the link to the Alert Iowa Website. You can sign up for Alert Iowa warnings.
http://entry.inspironlogistics.com/blackhawk_ia/wens.cfm
Hawkeye Valley Area Agency on Aging meals are offered on a contribution basis for people over 60 years of age. Actual cost for the meal is $7.26. People under the age of 60 must pay the actual cost. Meals are offered on a contribution basis to those ages 60 and over. Meals are offered at the United Method Church in Raymond at noon on Wednesdays. For more information, to reserve a place or order a meal, call the Senior Center at 319-272-2086.
March 11th: A: Roast Beef w/Brown Gravy, Whipped Potatoes, California Vegetable Blend, Multi Grain Bread, Frosted Birthday Cake, & Margarine. B: No Alternate.
March 18th: A: Italian Pork, Rice Florentine, Broccoli & Cauliflower, Wheat Bread, Strawberry Cheesecake Pudding, & Margarine. B: Sliced Turkey Breast, Swiss Cheese, White Bread, Potato Salad, Mixed Green Salad, Strawberry Cheesecake Pudding, Mustard, & Salad Dressing.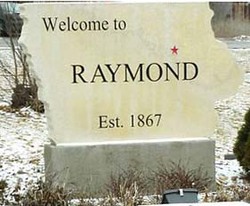 The City Council is looking for Raymond residents who are interested in serving on a committee to head up/serve on a Raymond Days Committee. If interested please contact City Hall at 232-6153.