City of Raymond
Welcome To Our Website!
The City of Raymond welcomes you to our website designed to help residents and visitors find information about our town. Raymond is a great place to live and work. We have an elementary school, two churches, two parks, 300 homes, and several businesses.
We are located just one mile off Interstate 380 and 7 miles east of Waterloo. 2016 estimated population is 809.
Please explore our website and let us know if there is any information you would like to see added. Thank you for visiting
AGENDA
The City Council of Raymond, Iowa will meet in regular session on April 15, 2019 at 6:00 p.m. at Raymond City Hall.
Meeting called to order followed by roll call
Pledge of Allegiance
Revise or approve agenda
Approval of the Consent Agenda – All items listed under the consent agenda will be enacted by one motion. There will be no separate discussion of these items unless a request is made prior to the time Council votes on the motion
Approve April 1, 2019 regular meeting minutes.
Resolution 1343 authorizing payment of bills and transfers.
Accept and place on file the minutes and reports from the following Boards, Departments and Commissions (N/A=Not Available): Clerk/Treasurer Report (March 2019), Receipts (March 19, 2019 – April 15, 2019), Sheriff's Report (March 2019), Library (N/A).
Inquiries from the Audience
Discuss/Action on request from Merissa Camerer, to allow chickens on her property at 6514 Lafayette
Reports
Fire Department Report
Membership Changes
Approval of new members
Monthly meeting minutes
Discuss possible regionalization of fire departments
Discuss/Action on burn request from Irv Thome at 6517 Lafayette Rd.
Building Permits/Inspections/Code Enforcement Report
Street Department Report
Discuss/Action on Street Sweeping Bids
Discuss/Action on various asphalt paving repairs of various streets
Discuss/Action on crack sealing on Greenbush, Landmark, West Central, Margene Dr, Margene Ct., Ann St.]
Discuss/Action on removing tree in City waterway behind City garage
Parks Department Report
Water & Sewer Report
Motion to approve Contractor Pay Application #6 for North Main Water Loop Project in the amount of $111,049.96
Engineering Report
Old Business
Discuss/Action on new 28E Agreement with Waterloo Water Works–Tabled until Council hears back from Waterloo Water Works.
Discuss/Action on STPG Application for Lafayette Rd.
Discuss/action on reviewing reroofing bids for concession stand
Discuss/Action on selling Spartan Pro-Tech Sewer cameras.
Discuss/Action on replacing trailer that was stolen
New Business
Set Public Hearing date for FY19 Budget Amendment
Communications
Adjournment
City Clerk
NOTICE OF CONSTRUCTION
RAYMOND NORTH WATER MAIN LOOPING
September 10, 2018
Dear Residents of Raymond,
The North Water Main Looping project is set to begin very soon. Graff Construction of Toledo, IA tentatively plans to have crews on site to begin construction the week of September 17th. This project includes the installation of approximately two miles of water main primarily along Conard Rd, allowing for a second connection to Waterloo Water Works system at Elk Run Road and completing an important water main loop for the City of Raymond. Water main installation will take place this Fall, with final restoration and seeding to take place in the Spring.
In the coming weeks, you can expect to see underground utility location markings and flags. These markings and flags are used to identify conflicts and warn the Contractor to the presence of underground utilities. Please do not disturb the markings or the flags as they are vital throughout the construction process.
Likewise, construction stakes and hubs will be placed to mark out the water main alignment and elevation for the Contractor. Please do not disturb these features.
For residents living near the project corridor, please use caution when traveling near the construction zones, as there will be some debris, stockpiles of materials, equipment and/or personnel working at various times of day. One-way traffic will be maintained along Conard Road at all times during construction. We appreciate your cooperation in following signage and alternating traffic during lane closures.
Patience is appreciated as Graff Construction, the City of Raymond, and MSA work together for a successful and timely completion of the project. Should you have any questions, comments or concerns, please feel free to contact Jake Huck with MSA or Raymond City Hall.
City Engineer:
Jake Huck, PE
Phone: (563) 542-6571
jhuck@msa-ps.com
Link to the Alert Iowa Website. You can sign up for Alert Iowa warnings: http://entry.inspironlogistics.com/blackhawk_ia/wens.cfm
Hawkeye Valley Area Agency on Aging meals are offered on a contribution basis for people over 60 years of age. Actual cost for the meal is $7.26. People under the age of 60 must pay the actual cost. Meals are offered on a contribution basis to those ages 60 and over. Meals are offered at the United Method Church in Raymond at noon on Wednesdays. For more information, to reserve a place or order a meal, call the Senior Center at 319-874-6849.
April 10th: Beef Spaghetti Casserole, California Vegetable Blend, Multi Grain Breat, Hot Cinnamen Applesauce, Milk, Margarine.
April 17th: Pork Loin, Brown Gravy, Macaroni & Cheese, Green Beans, Tropical Fruit, Milk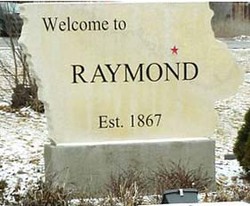 Storm Water Discharge Hotline 319-232-6153
Contact information:
101 1st St.
PO Box 156
Raymond, IA 50667
319-232-6153
319-233-0958 FAX
cityofraymond@mchsi.com
mayorofraymondia@mchsi.com