City of Raymond
Welcome To Our Website!
The City of Raymond welcomes you to our website designed to help residents and visitors find information about our town. Raymond is a great place to live and work. We have an elementary school, two churches, two parks, 300 homes, and several businesses.
We are located just one mile off Interstate 380 and 7 miles east of Waterloo. The 2010 census reported our population at 788.
Please explore our website and let us know if there is any information you would like to see added. Thank you for visiting!
The City Council of Raymond, Iowa will meet in special session on Wednesday, September 3, 2014 at 6:00 p.m. at City Hall.
1. Meeting called to order followed by roll call
2. Pledge of Allegiance
3. Revise or approve agenda
4. Discussion/Action on City Clerk position.
5. Discussion/Action to pay hourly employees on a bi-monthly basis.
6. Possible Closed Session Pursuant to Chapter 21.5(i) of the Code of Iowa
7. Other Communications
8. Adjournment
City Clerk
Raymond garbage pickup will be delayed 1 day due to the Labor Day Holiday. Pick-up is scheduled for Friday, September 5, 2014.
Hawkeye Valley Area Agency on Aging meals are offered on a contribution basis for people over 60 years of age. Actual cost for the meal is $6. People under the age of 60 must pay the actual cost. Meals are offered on a contribution basis to those ages 60 and over. Meals are offered at the United Method Church in Raymond at noon on Wednesdays. For more information, to reserve a place or order a meal, call the Senior Center at 319-272-2086.
September 3: A: Cranberry Dijon Chicken, Lima Beans, Whole Kernel Corn, Multi Grain Bread, Fresh Fruit & Margarine. B: Sliced Turkey & Ham, Swiss Cheese, Kidney Bean Salad, Cucumber & Tomato Salad, Multi Grain Bread, Fresh Fruit & Margarine.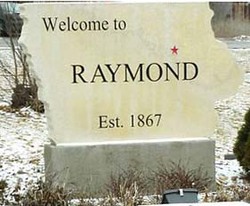 The new playground equipment at H.E. Pint Park is finished! Pictures to come soon!
The City Council is looking for Raymond residents who are interested in serving on a committee to head up/serve on a Raymond Days Committee. If interested please contact City Hall at 232-6153.