City of Raymond
Welcome To Our Website!
The City of Raymond welcomes you to our website designed to help residents and visitors find information about our town. Raymond is a great place to live and work. We have an elementary school, two churches, two parks, 300 homes, and several businesses.
We are located just one mile off Interstate 380 and 7 miles east of Waterloo. The 2010 census reported our population at 788.
Please explore our website and let us know if there is any information you would like to see added. Thank you for visiting!
CORRECTED 8/4/14
The City Council of Raymond met in regular session on Monday, July 21, 2014 at 6:03 p.m. at Raymond City Hall with Mayor Johnson presiding. Vick, Pint, Smith, McGowan present. Morgan absent. Mayor Johnson led in the Pledge of Allegiance.

McGowan/Smith motion to approve the agenda. Ayes-Pint, Vick, Smith, McGowan. Motion carried 4-0. Mayor Johnson would like to discuss Resolution 1166 regarding payment of bills. Mayor Johnson stated the bill from Joe Jones Jr. for $350.00 is for the following dates: June 20, June 26, July 1, July 5, July 10, July 16, and July 20. For June the dates were May 31, June 9, and June 15. Mayor Johnson approved cleaning once a week both lift stations for $50 per week and the bill submitted for July includes cleaning the lift stations twice a week in some cases. Mayor Johnson stated he had a phone conversation with Jones who stated the baskets have been really full and would like to know if he could clean them out more than once a week. Morgan entered at 6:08 p.m. Mayor Johnson wanted to bring it to Council's attention. Councilperson Vick stated Council needs to clarify that they want the lift station baskets cleaned out once a week and if they need to be cleaned out twice a week, Jones needs to let Mayor Johnson know. Vick/Smith motion to approve the consent agenda: A) Minutes of July 7, 2014 regular meeting; B) Resolution 1166 authorizing payment of bills and transfers. C) Clerk/Treasurer Report (June), Receipts (June 17, 2014 –July 21, 2014), Sheriff's Report (June) Ayes–Morgan, Vick, Pint, Smith, McGowan. Motion carried 5-0.
July Disbursements: Total $78,409.09; General Fund $65,486.44; Road Use $1,287.75; Sewer $9,156.03; Water $70.87; Debt Service $0.00; Cap Improv $0.00; SR-LOST $0.00; SR-TIF $2,408.00
June Receipts: Total $47,393.02; General Fund $12,473.53; Road Use $7,262.20; Special Rev. (LOST) $6,891.95; SR (TIF/UR) $63.78; Debt Service $3,620.82; Water Utility $487.81; Sewer Utility $16,592.32; Cap Improv $0.61
Shawna Kuehl $ 25.00
Office of Auditor of State $1,200.00
IMWCA $ 3,567.00
Nancy Miebach $ 25.00
Waterloo Water Works $ 375.01
MidAmerican Energy $ 980.90
Black Hawk Co. Sheriff $ 5,588.20
BMC Aggregates, LLC $ 3.44
City of Elk Run Heights $ 5,200.00
BHC EMA $1,077.68
Etringer Electric LLC $ 2,554.34
City of Evansdale Fire Rescue $ 225.00
Iowa League of Cities $ 593.00
John Deere Financial $ 526.73
Roberts,Stevens,Prendergast,Guthrie $ 730.48
Waste Management $3,445.26
Whole Excavation $11,453.02
Century Link $ 155.14
Amerigas $ 179.00
Ament Design $ 337.50
Card Services $ 230.15
Iowa One Call $ 26.10
United States Treasury $ 3,252.27
State of Iowa Treasurer $ 207.00
Danko Emergency $26,132.48
IPERS $ 547.28
Whole Excavation $ 952.99
Payroll $ 5,951.37
Courier Communications $ 109.75
Joe Jones, Jr. $ 350.00
SJ Construction $ 2,408.00
Inquiries from the Audience-City Clerk received a request from Larry Schroeder to have a new street light to be installed at the end of Devyn St. Mayor Johnson asked City Clerk to contact MidAmerican Energy to have one installed. Councilperson McGowan stated Deb Tabor had spoken with his wife and was complaining about washouts and drainage issues in the ditch that was worked on last year. McGowan said Tabor was to contact him but as of today, she has not. Mayor Johnson stated Tabor changed the flow when she removed the waterway on the west side of her property and when installing her driveway, there was no culvert installed when there should have been in accordance with Raymond Code of Ordinance.
Fire Dept–Two EMS calls, two fire calls. Five calls in July so far. No new members. Poker Run is August 16th. Mayor Johnson asked why The Bar was eliminated from the list of stops. Fire Chief Dolf stated last year The Bar did not have the capacity to hold everyone on the poker run. Mayor Johnson asked if The Bar was contacted about maybe installing a fenced in area in the parking lot to make room. Dolf stated there are conflicts there. Mayor Johnson stated maybe there needs to be a meeting between the two and see what the problem is. Mayor Johnson asked if the fire dept. solicits any businesses in Raymond for donations. Fire Chief Dolf asked if Code Enforcement can issue a citation to John McMahon for illegal burning since McMahon admitted he started the fire. Mayor Johnson asked if the fire marshal inspection was complete. Dolf stated the fire marshal is done but the DNR is still working on their investigation.
Building Inspections/Code Enforcement–Three new houses being built. Code Enforcement to look at the property on the corner of 8th & W. Central to see if these are weeds or wild flowers. Code Enforcement to contact City Attorney about the property at 6410 Lafayette.
Street Department–Mayor Johnson asked for a motion to accept the quote for crack sealing of roads from Kluesner Construction, Inc. Motion dies due to lack of a motion.
Parks Department–One truck load of wood chips is still coming. City Clerk to get an estimate for fencing for the east side of the playground. The City received a thank you note about the new playground equipment at Scott Thome Park thanking the City for installing new playground equipment.
Water & Sewer Report –City Engineer Huck spoke with Rick Johanningmeier about how he calculates Raymond flows. He stated he uses two mag meters and traditionally they are pretty accurate. Huck stated a new mag meters would cost $5,000-$7,000 per meter. A meter could be installed at the west lift station and have someone read what the flow are. Mayor Johnson stated Joe Jones Jr. could do the readings. City Engineer to report back at the 2nd meeting in August.
Engineering Report-Vick/Morgan motion to approve the Master Services Agreement with MSA Professional Services to serve as Raymond City Engineer. Ayes-Vick, Morgan, McGowan, Smith, Pint. Motion carried 5-0.
Discussion of Wastewater Facility Plan Revision - Mayor Johnson stated he has not heard anything new from Mayor Wurtz or the City of Waterloo.
Discussion of possible development of Rolling Hills III - Smith/Pint motion to remove the possible development of Rolling Hills from the agenda. Ayes-Smith, Pint, McGowan, Morgan, Vick. Motion carried 5-0.
Discussion of Low Water Pressure North side of Raymond in Royal Ridge Development -The City Engineer reviewed the water study that was completed by Ament Design which is a spreadsheet based analysis and MSA uses water cad software. City Engineer would like to recreate a new water study and give Council new options. Smith/Vick motion to have MSA Professional services create a new water survey for $1,600 to present to Council. Ayes-Smith, Vick, McGowan, Morgan, Pint. Motion carried 5-0.
Discussion of CDBG (Community Development Block Grant) LMI Survey - City Clerk submitted the results to Brian Schoon at INRCOG.
New Business - Discussion of employee wages - Mayor Johnson stated this needs to be discussed during budget time. Pint/Morgan motion to remove employee wages from the agenda and put back on the agenda in January for budgeting. Ayes-Pint, Morgan, McGowan, Smith, Vick. Motion carried 5-0.
Communications - Mayor Johnson stated he is unable to make the EMA meeting tomorrow and asked if anyone from the Council could attend or call-in for voting purposes. Councilperson Pint stated she could call-in with a vote for Raymond. Mayor Johnson spoke with the owners of the convenience store regarding a liquor and cigarette license. The owner of the convenience store stated they have a county permit. Mayor Johnson states he has never heard of a county permit. Mayor Johnson will instruct Code Enforcement to go down and cite them for no city liquor or tobacco permit.
Pint/Smith motion to adjourn at 7:46 p.m. Ayes-Pint, Vick, Morgan, Smith, McGowan. Motion carried 5-0.
Nancy Miebach, City Clerk
Hawkeye Valley Area Agency on Aging meals are offered on a contribution basis for people over 60 years of age. Actual cost for the meal is $6. People under the age of 60 must pay the actual cost. Meals are offered on a contribution basis to those ages 60 and over. Meals are offered at the United Method Church in Raymond at noon on Wednesdays. For more information, to reserve a place or order a meal, call the Senior Center at 319-272-2086.
August 6th: A. Potato Crusted Fish, Macaroni & Cheese, Green Beans w/Tomatoes, Multi Grain Bread, Mandarin Oranges & Margarine. B. Sliced Roast Beef, Swiss Cheese, Pasta Salad, Italian Tomatoes, Multi Grain Bread, Mandarin Oranges & Mustard.
August 13th: A. Roast Beef w/Brown Gravy, Whipped Potatoes, Fiesta Vegetables, Multi Grain Bread, Frosted Cake & Margarine. B. No Alternate.
August 20th: A. Grilled Pork w/Pepper Gravy, Baked Potato, Garden Vegetables, Wheat Bread, Carnival Cookie, Sour Cream & Margarine. B. Honey Mustard Chicken Salad, Green Pea Salad, Carrifruit Salad, Wheat Bread, Carnival Cookie.
August 27th: A. Pork Rib Patty, Ranch Beans, California Vegetables, Hamburger Bun, Tropical Fruit, and Margarine. B. Oriental Chicken Salad, Orange Juice, Multi Grain Bread, Tropical Fruit, and Margarine.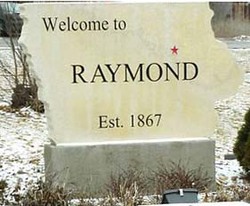 The new playground equipment at H.E. Pint Park is finished! Pictures to come soon!
The City Council is looking for Raymond residents who are interested in serving on a committee to head up/serve on a Raymond Days Committee. If interested please contact City Hall at 232-6153.